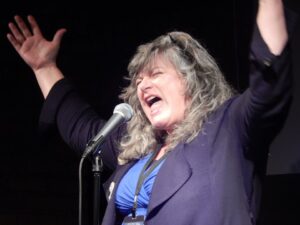 Jenni Lou Russi
Jenni Lou's comedy credits include working as a house emcee at comedy clubs, tours throughout the Lower 48, and corporate engagements. She recently appeared in comedy festivals around the country, including Alaska B4UDIE, Snow Jam, and the Cleveland Comedy Festival.
A single mother who worked through grad school as a touring comedian to become a college professor, Jenni Lou offers a unique perspective in her comedy shows, speaking engagements, and workshops. With more than 20 years of experience, she brings sincerity to the mic with laughs that come from the heart.
As a college professor, Jenni Lou's expertise in Communication is demonstrated in speaking engagements and workshops. Her presentations are encouraging and her workshops are challenging as she engages with people who are in life-transitions and seek professional growth, using humor as a means to find common-ground.